Hourglass
Author :
mizuno_hikaru
Pairing :
Akame
Rating :
dunno. PG15? NC17?
Summary :
Kamenashi Kazuya trapped in a cursed mad house, where there is no escape…and none of the clocks is showing the right time. And there is something…
someone
… who always watches him intensely from afar.
Warning :
un-betaed, angsty.
A/N :
inspired from the clocks on my second floor. None of them showed me the right time. XDXDXD
P.S:
I have my new year's celebration party somewhere else my home and I couldn't guarantee that I could post this fic there, so I posted this earlier. The poem in the banner and the fic credited to
this web
.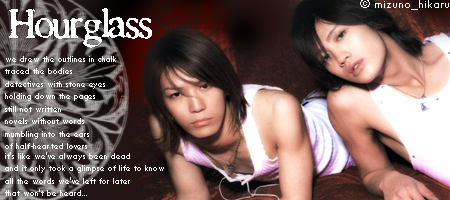 This is a mad house…
Kamenashi Kazuya opened his eyes, and slowly he tossed himself to another position in the middle of the bed. It was a king sized bed, with a canopy and located in a room decorated in Rococo style; with all of those gold and red mixture, glassy panels, the shells shaped ornaments and complicated reliefs. In fact; the mad house is a huge Rococo style mansion. Classic, snobbish, full of self-proud with it's heavy atmosphere.
Kazuya sighed.
This is a mad house…
A cursed one…
There were so many clocks in the mansion, but none of them is showing the right time. All of them were showing the different time, several of them were dead, several of them ticked non-stop with unusual speed.
As it not enough, the mansion trapped him like a labyrinth. There was no way out. No matter how he tried to find a way out, he never succeed. When he realized it, he found himself in his previous place. It's like he was walking in a never ending circle which leads nowhere.
A new clothes will be placed in his room every morning, meals will be served nicely on the dining table whenever he needed it, his water is prepared in the bath; all like magic and it served him nicely as he was a king.
But he was alone.
Trapped.
The facts frustrated him; and he threw his blanket to the side. He walked barefooted around the mansion. As usual, he walked and walked… only to find that he stood in the same place as before.
" Stop kidding me…! " He threw a vase, and the poor thing shattered on the carpet. Kazuya tried another door, and later found himself in the same room—the vase was fixed and flawless, located nicely on the buffet table.
" Stop kidding me… " Kazuya fell on his knee. " Stop this all…!! Let me out of here..!!! "
This is a mad house…
A cursed one which trapped him with no way out…
Kazuya didn't know how long he had spent his time in the mansion. It felt like days… Like months… or maybe years…? Yet he remains the same, as he always be. Time seems to stop in the mansion.
He totally has no idea why he was in the mansion. He didn't own any memory of his previous life before he was trapped there. The only thing he still remembered is only his name. But it was useless as he was alone.
A name is meaningful when you have someone to call you with that name…
Without another person, it was no difference to own a name or even nameless…
" I hate this… "
And in the another sec, he snapped.
" Who's there ?! "
It wasn't the first time he felt it.
Such intense gaze which locked on him…
The sensation of being watched by something…or someone ?
" Show yourself to me… "
But as usual, no one answer.
He was alone.
" Who are you…?! Why you did this to me…? " Kazuya's tears escaped from the corner of his eyes. He was tired to live such a life. Finally gave up, he stood and walked to his room.
CLACK.
Something fell from the buffet.
" This is…? " Kazuya noticed the said thing as a silver hourglass. Decorated in complex decoration, it was small enough to fit a palm. It was pretty; emits a mysterious aura. The sands slowly rolled down to the lower half tube; created a smooth sound—like a wind.
Hourglass was shaped based on the infinity mark; and the irony made him sighed. His life was like the hourglass; as his life was frozen—rolled in the same scene over and over.
He recalled a poem he once heard; a poem about an hourglass.
we left words for later
while the act pooled in our extremities
nerveous fingers in their rheumatoid perdition
a broken violin clutching the last note
of someone else's symphony

we drew the outlines in chalk
traced the bodies; detectives with stone eyes
holding down the pages still not written
novels without words
mumbling into the ears of half-hearted lovers

it's like we've always been dead
and it only took a glimpse of life to know
all the words we've left for later
that won't be heard...
Someone told him the poem—.
Wait.
He remembered that he heard the poem from someone…
Who is that person…?
Kazuya laughed, played the hourglass in his palm. " So, what am I to you ? "
The latter snatched the hourglass from him, " Why you keep asking me that silly question, Kazu…? "
" Silly, you said ? " Kazuya pinched the latter's nose, " It's not silly…! And I love when you answer that question… "
" You really love to hear it, ne ? "
" Come on~ Tell me…! "

" Okay, okay… " The latter looked straight to Kazuya's eyes, " Kazu… you are my dear precious one. You are my love, my heart, my life… You are the sun of my days, the stars of my nights… You are my everything… "
" And if one day fate separated us…? "
" They are no such thing like that, silly ! " The latter hit his head teasingly, " It won't ever happen… Because before fate stole you from my hand, I'll stop him "
" Oh yeah ? How ? "

The sands from the hourglass stopped to rolled down as it was put horizontally. Kazuya pouted, " You stop the sands of the hourglass. Yeah, rite "
" It's not it, silly…! " The latter handed him the hourglass, " I freeze the time; so we'll together for ever and forever "
Kazuya's eyes widened.
" I freeze the time; so we'll together for ever and forever "
" Oh my God… "
He gripped the hourglass in his palm. The words echoed in his mind endlessly, and his memories flowing back to him. He tried to hold his tears back and rushed to the basement hall.
The floor covered with dark coloured pavements, the hall was dark and dusty. Yet he remembered every steps and headed to the chamber in firm steps.
" I remembered it all… " He whispered his lover's name : " Jin… "
They lived together in the mansion years, years ago… back to the mid years of 18th centuries. They lived after the Meiji Restoration era, and their father was one of the lords who accepted the western style with open hands. He built a Rococo style mansion in the middle of the forest and they lived in the mansion peacefully.

Their father.
They shared the same father, as Kazuya was the younger son born from one of his father's mistress. Jin's mother was the legal wife, but the nice lady died from an illness. Kazuya remembered that Jin's mother is a kind and gentle person, treated him like her own son; better than his real mother.

He and Jin always play together; and they fell for each other unconditionally as the time goes by. They keep it as a secret; and they were using the silver hourglass as their sign for a promise to meet each other in the woods.

But one day, an epidemic came. Their father passed away; along with most of their people. The same illness made Kazuya suffered and dying slowly. That night, Jin held his hand tightly and begged him not to leave him.
" Don't leave me, Kazu… "

It broke Kazuya's heart to saw Jin's pain, but he was too weak to say anything. Their conversation back then echoed in their minds :
" And if one day fate separated us…? "

" …you are my dear precious one. You are my love, my heart, my life… You are the sun of my days, the stars of my nights… You are my everything… " Jin repeated his answers, " Fate won't ever happen… Because before fate stole you from my hand, I'll stop him… I freeze the time; so we'll together for ever and forever "


It was the last thing in his memories; and when he woke up from his slumber, Kazuya was alone in the mansion. Live the same scene everyday, slowly forgetting about his past as years went by…
" Why…? "
There was a big bed in the chamber; his body and Jin's body lied side by side—looked to sleep peacefully. They were pale and lifeless, their hands tangled together, a soft smile on their lips.
" Why you let me alone in this years…? "
A hand covered his eyes from his behind, " You were supposed not to remembered this, Kazu "
" It's you who watched me from afar… " Kazuya turned around to find his lover stood there behind him, " All these years… Why you never show yourself in front of me…? "
" Because right at the moment you remembered, the time will stop freezing "
" So let it be…! " Kazuya hugged his dear brother, " It's better than live my life alone forever… "
" I'm sorry, Kazu… "
" Don't apologize… " Kazuya gazed at their real bodies, " So both of us were dead, ne ? And we were ghosts ? "
" Sort of. We are the pieces made of the real us' souls and memories "
" I didn't need an eternity Jin… You didn't need to stop the time for us… " Kazuya closed his eyes as Jin covered his lips with his, " Just stay beside me forever… And it will be enough "
" I promise… "
They disappeared into the thin air. The silver hourglass fell and rolled on the floor, moved near the bed and stopped after bumped it with a soft thud. The time was ticking again, and the clocks in the mansion slowly showed the correct same time.
Let the time flew.
You didn't need to stop the time for us…
Just stay beside me forever.
And it will be enough...
—owari—
Extra :
Don't ask why it ended this way~!! *run away from angry readers*
I was completely out of my mind when I typed this~
Sooo… I use the Rococo style for the mansion. The years of that style and the Meiji restoration is close enough, so I used them. More information for the Rococo style
here
. The Meiji Restoration
here
. Don't mind the history facts, I just made up everything~
Oh, and if you wondered about the mansion, look at these pics :
*
Kazuya's room
*
The Mansion's interior
* Other Rococo interiors :
here
and
here
.
Current Mood:
busy